Design prices are now 15% off between now and next Friday, October 8. The discount will be taken on the invoice when you place your order. The prices posted on my prices' page are still the regular price.
Here's an example of what you can get--a new post button like this one I recently completed for
The Unread Reader
. Click on the image to see it on the blog live.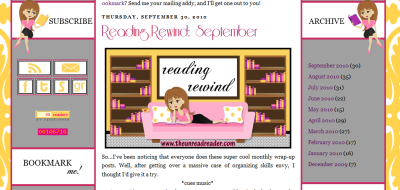 Halloween is also coming up so why not give your blog a Halloween-themed update, like I'm thinking of giving mine?
To get the discount, just place your order by the end of the day next Friday and pay the invoice on time. I'll honor the price, even if I don't get to your design before the sale is over. Of course, my queue is empty right now so if you place your order today, you could have a whole new look by Monday.
To start your order, fill out the
Design Questionnaire
.
If you have any questions prior to placing an order, fill out the
Contact Form
instead.