This past weekend I did a redesign for Beth from Manic Mother's photography site, Manic Mother Photography. She had seen a Wordpress design that she had liked at I Should Be Folding Laundry and wanted something similar in feel for her photography site. Here is a before shot of Beth's site: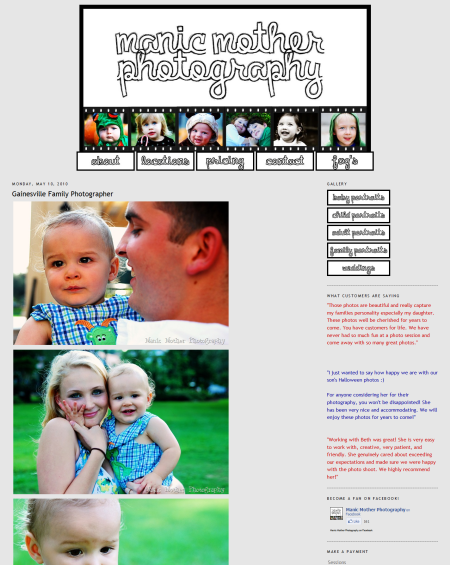 And here is what I came up with:
(Click on pic to see her main page. It was too big for me to shrink so I had to shrink the about page.)
Beth is still trying to decide what she wants on her sidebar so if you want to see how each sidebar widget will be in its own green box like the Wordpress design she liked, check back soon or see my test site here: MMP Test Site.

I also designed these buttons for her Investment and Portfolio pages, using photos she had taken: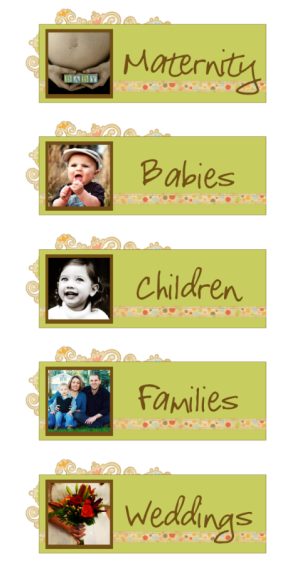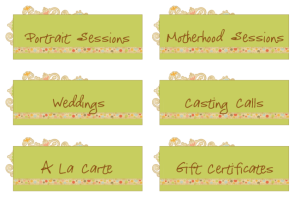 I tried to make their design echo that of the entire blog by using the peeking out images, the sidebar color, and the ribbon.
Manic Mother Photography operates out of Gainesville, Florida, so if you live in the area and are looking for someone to take photographs of you, your children, your entire family, or an upcoming wedding, check out Beth's site and give her services a try.