Last week Colleen from
Books in the City
hired me to do a total blog makeover for her book review blog. She wanted something that reflected both her love of books and of her current locale, New York City. Here is a before shot of her blog:
And her is the after shot: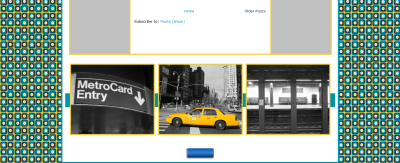 I used a combination of black and white photos and stock vectors to create the blog's new header, footer, navigation bar, signature, favicon, post divider, sidebar titles, background pattern, button, and three column design. I had fun doing it, and once again a bright color scheme has made me want to redo my main blog, Just Bloggled, with a summery color scheme. I doubt I'll redo it anytime soon so I'll just have to live vicariously through other people's redoes.